OLIVE OIL BAR SOAP - LARGE BARS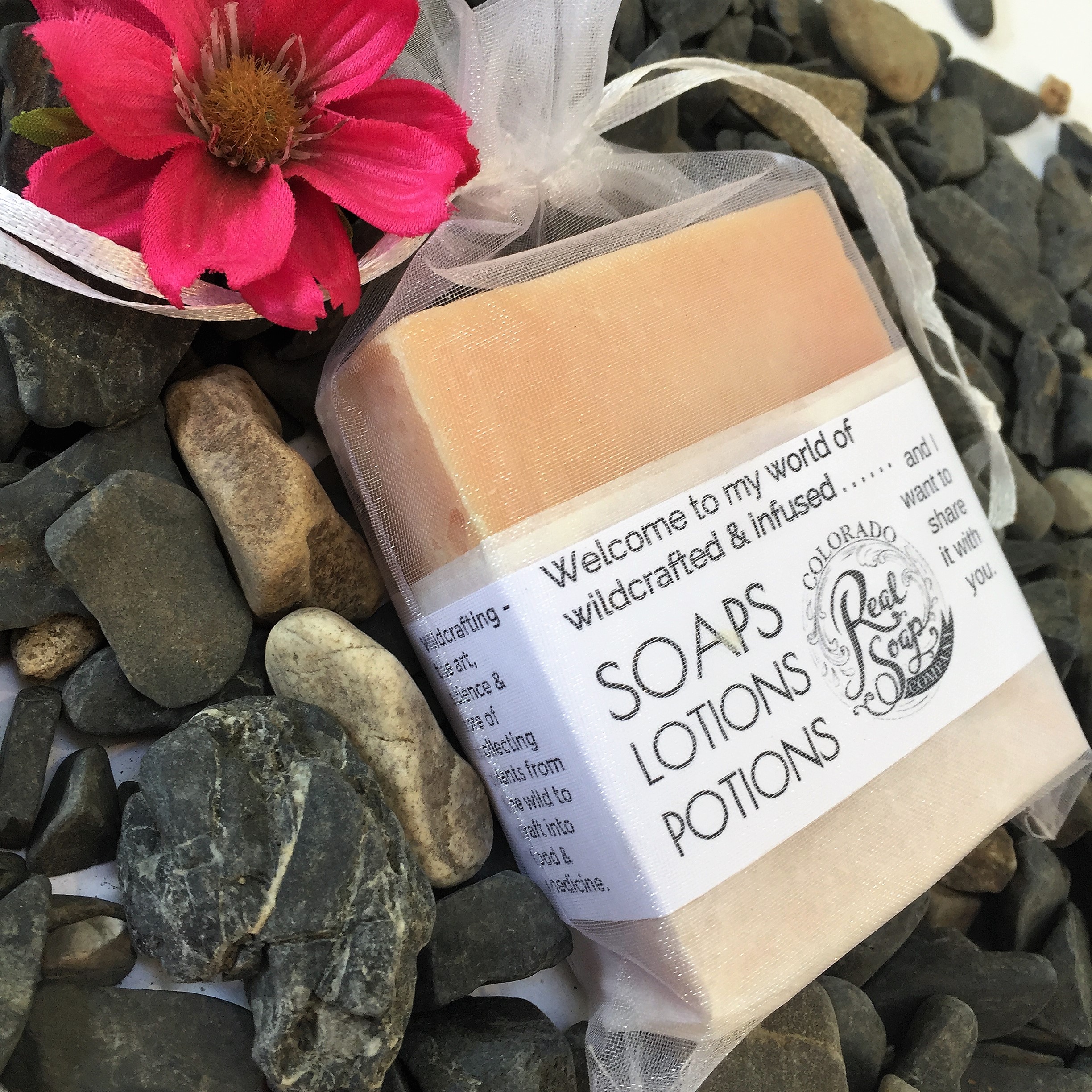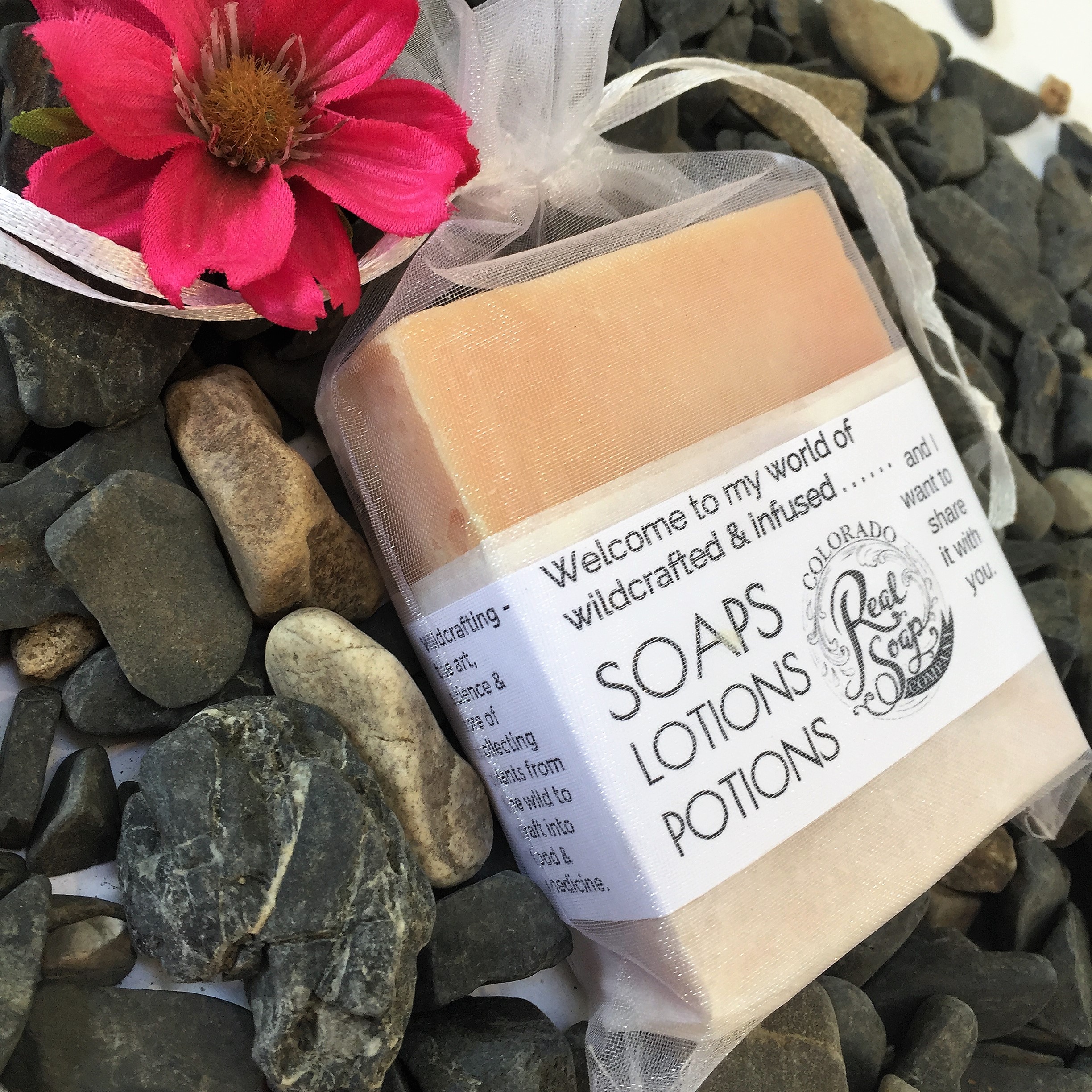 OLIVE OIL BAR SOAP - LARGE BARS
CLEANSE + NOURISH + RESTORE
BIG 4 OUNCE BARS. Old fashion REAL castile soaps made with loads of organic olive oil and other organic oils. Over a dozen varieties enhanced with pure essential oils.
MADE WITH ORGANIC & WILDCRAFTED INGREDIENTS. PRESERVATIVE FREE + 100% BIODEGRADABLE REAL SOAP + VEGAN OPTIONS
WHAT IS TODAY'S "OLD FASHION" HANDMADE SOAP?
Scroll down for a list of my essential oil enhanced Olive Oil soap
Well it ain't your grandma's homemade, rustic soap that's for sure! Back in the old days, before accurate scales, grandma had to use more lye than she really needed. She did this to ensure that her time, resources and hard effort were not wasted by creating a greasy soap which wouldn't clean well. So she added a little extra lye to each batch and the term "lye heavy" soap was coined. These soaps could be quite harsh and rarely ever used for bathing and washing our bodies. They were used to clean clothes, pots and pans, plates, dish, things like that.
Today we modern soap makers have accurate technologies to help us create lovely oil soaps that are not harsh! We can produce soap now which actually soften, condition and nourish the skin - no dryness!
I make "Super-fatted" my soaps, which means there is just a bit of oils or butters that remain after the soap has cured. ONLY natural, handmade oil soaps can be Super-Fatted. Super fatter soaps are the most conditioning soaps available.
My natural, botanical soaps also contain all of the natural glycerin created during the making of the soap. Commercial soap makers remove and sell glycerin (its valuable stuff!) You don't see it on my ingredients list because I don't add any extra. But rest assured its all in there! And that's a good thing cause glycerin has been used for thousands of years to heal nourish and condition our skin.
"super-fatted handmade soap to cleanse, nourish & restore our skin

Each recipe over 50% Organic Olive Oil

Enhanced with premium essential oils

Infused with locally harvested botanical ingredients
MADE WITH ORGANIC OILS, enhanced with essential oils, plants and flowers, many of which I collect from the mountains surrounding my alpine home. or grow in my own garden.
WHAT YOU WILL NEVER FIND IN THESE LOVEY SOAPS:
NO conventional, modified oils

NO sodium lauryl sulfate (or similar)

NO preservatives NO GMOs

NO conventional Palm Oil

NO Parabens NO petroleum products

NO synthetic fragrances or dyes
Each soap recipe is slightly different and includes some/all of the following:
Organic Olive Oil: A traditional oil used in soap because it is mild and brings a "moisturized feel". Each recipes includes between 50-75% Organic Olive Oil
Organic Sunflower Oil: Very similar to olive oil but with a lighter/cleaner feel to it.
Fair Trade Sustainable Palm: for the reasons of deforestation in tropical regions (see below for further explanation). Palm is key to a stable bar of soap which will not melt away in the soap dish. See details on my source of palm below.
Organic Virgin Coconut: Coconut brings big, thick lather and fun bubbles the recipes. A little goes a long way, too much coconut is actually too cleansing! A bar with a lot of coconut oil makes a great spot remover - but not a great bath and body bar!
Hemp Seed: Some of the soaps contain unrefined hemp is used to avoid chemical contamination possible in the refining process. It also gives a nice natural aroma to the soap. Hemp oil adds a unique skin feel and moisturizing effect.
Organic Shea Butter: for skin conditioning.
Castor Oil: for deep cleansing
Enhanced with premium Essential Oils (not synthetic fragrances!)
Enhancements such as aloe, flowers, goat and cow's milk, sea salt, and often wildcrafted leaves and flowers which I collect from the forest surrounding my mountain home.
The true beauty of natural oil soaps lies in their unique, yet mysterious, ability to not just gently cleanse, but to also nourish and restore the skin barrier - helping it remain strong and resilient. Delve deeper into the many amazing aspects of real soap here in my blog …
Essential Oil Enhanced Varieties:
CITRUS SORBET: Orange and Ylang Ylang (with Aloe & Shea)
EUCALYPTUS TEA TREE HEMP: Tea Tree, Eucalyptus, Cajeput, (Hempseed oil & Shea)
LAVENDER LEMONGRASS: Lavender + Lemongrass essential oils + Mica (with Aloe & Shea)
LEMONGRASS + SAGE: lemongrass + dalmatian sage (with Aloe & Shea & sage leaves)
LAVENDER FLOWERS: Lavender essential oil plus Colorado Lavender Buds and Lavender Powder (with Shea Butter )
MOUNTAIN LAUREL: May Chang (aka Litsea Cubeba) One of most delightful citrus scents ever! (with Aloe + Shea butter).
MOUNTAIN MEADOW: Lavender + Lemongrass + Palmarosa + Cedarwood + Geranium + Clary Sage (with Aloe)
OATMEAL + MILK + HONEY: Oats, Honey + fresh goat's milk + vanilla (with Aloe)
PINE DROPS: Fir needle essential oil, fresh cow's milk from a local dairy, and crushed spruce needles.
TEA TREE + MINT: Tea Tree + Cajeput plus Peppermint Leaves + Parsley Powder. (with Aloe & Shea)
WILD MOUNTAIN ROSE: Geranium Rose, Palmarosa, Rose Absolute plus Pink Clay, Rose hips Powder (with Aloe & Shea)
WILD FOREST: Colorado Lavender + Fir Needle, l (with Shea and spruce needles)
WOODS WALK: Frankincense + Myrrh + vanilla (with Shea Butter) Named for everyone's favorite trail right above town.
UNSCENTED OPTION: ALOE + CLAY, with Rhassoul clay and Aloe, no essential oils.
FAIR TRADE SUSTAINABLE PALM OIL FROM SOUTH AMERICA: With global demand for palm oil surging large-scale palm oil plantations are not sustainable and contribute to widespread deforestation. Palm oils is very difficult to replace in bar soaps as they impart the hardness necessary for a high quality bar of soap which will not melt. Because of the high amounts of olive oil, adding a little palm makes a long lasting hard bar of soap.
We all rely on review, listing your favorites helps others choose. Use the form at the bottom of the page to leave reviews, comments or suggestions.
Hello, World! Thanks for taking the time to share your thoughts with others! Your review will populate on all my product pages so be sure to list the items your are commenting about. TIA!